Changes to Classroom Technology Spring 2021
January 07, 2021
ITS has implemented several improvements to classroom infrastructure for the Spring 2021 semester.
Improved student audio capture in Gittis classroom
ITS completed installation of a new set of ceiling microphones in each Gittis classroom. Students can speak in a normal volume and will be heard clearly on Zoom calls and recordings.
Stylus for touch panels
In all rooms with touch panels (Gittis and Silverman), there is now a stylus attached to the side of the touch panel. Please use this stylus instead of your finger, and disinfect the stylus with the provided wipes afterwards.
Send Zoom gallery view to side screen in Gittis classrooms and S147
In the Gittis classrooms and S147, instructors have the ability to now send the secondary display to the side projector. Instructors already have two displays to use–the main display and the secondary display. New this semester is the ability to send the secondary display to the side projector.
This will let you have your powerpoint on the primary display (mirrored on the center projector), and your Zoom gallery view on the secondary display (mirrored on the side projector).
To do this, click the "Side" button under "Send Screen 2 to Room"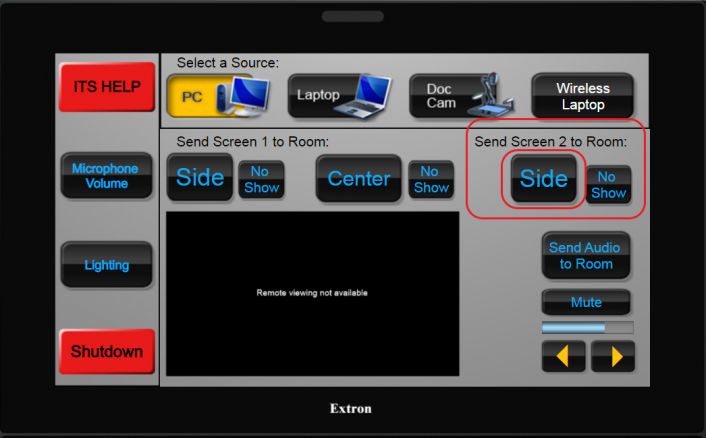 Image of primary and secondary display facing the instructor: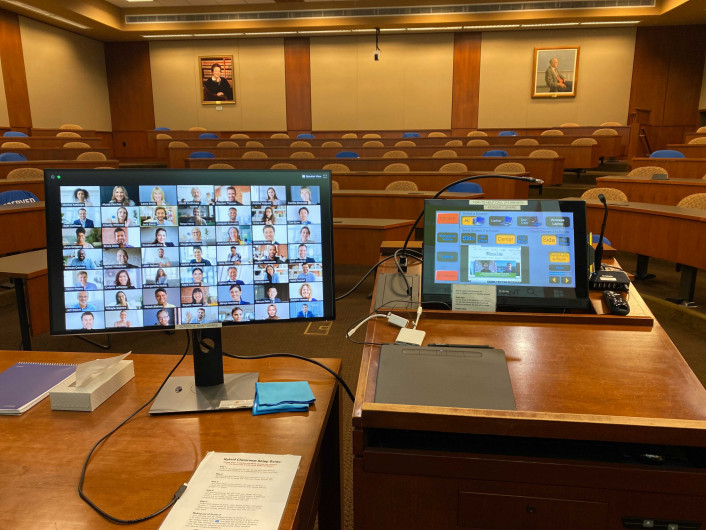 Image of separate images on each projector screen: