When Male Leaders Sponsor Women
By:
Sharada Srinivasan, CTIC Fellow with an Introduction by Rangita de Silva de Alwis, Associate Dean for International Affairs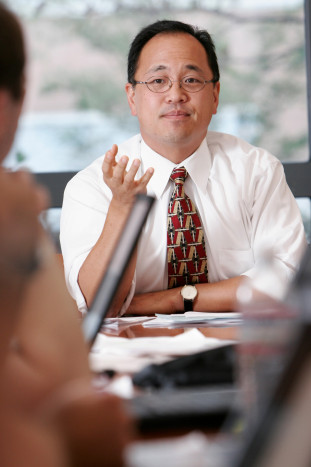 "Women have to be sponsored by leaders, and leaders are still mostly men."
— Pat Milligan, As quoted by the NYT, January 2019
Men in positions of power can play a critical role in advancing women in their careers. A growing body of literature analyzes how these male allies not only promote individual women but revitalize an entire institutional culture. According to the Harvard Business Review (HBR), having a sponsor who supports a woman's career is the single most important tool to level the playing field for women. Moreover, according to the HBR, a male champion who supports talented female leaders helps, thereby, to alter the status quo culture of the workplace. We believe that by highlighting extraordinary male champions, and by understanding the behaviors that drive their effectiveness, we can truly transform harmful biases and historic prejudices. Our goal is to make the actions of male champions more visible so that it encourages the modeling of these behaviors on a broader scale, especially among a new generation of male leaders. Not only is it vital for more men to mentor women in the workplace, but in a post-#MeToo world, men need to step up rather than step away from productive cross-gender relations which disrupt harmful and hierarchical cultures and advance the growth of those institutions.
For Women's History Month, Sharada Srinivasan, CTIC Fellow, talks about the way in which a global leader at Penn Law has championed her academically, professionally, and personally.
I entered Penn Law two summers ago as a research fellow of the Center for Technology, Innovation, and Competition (CTIC), where I work under the guidance of Professor Christopher Yoo, the Center's founding director. Working with Professor Yoo has easily been the most rewarding experience of my life – I could not have asked for a better first boss and will forever be lucky to have him as my mentor.
Professor Yoo has championed my career, provided thoughtful guidance, clarity, and immeasurable support for my career goals. I entered CTIC as a first-generation graduate from India, starry-eyed and with a myriad of wide-ranging interests in technology and policy. In mentoring me, Professor Yoo both recognized my breadth of interests and my need to gain disciplinary and methodological grounding. He constantly focused me to hone research design skills to answer the questions I sought to study, instilling a strong commitment to rigor. When I first went to him with ideas to significantly expand the scope of our project to include primary fieldwork, he encouraged me to take coursework to supplement my prior skills and provided seed funding to conduct field research. He recognized that our different backgrounds warrant thoughtful, individualized advising approaches, and made a sincere effort to understand my skills, experiences, and interests in light of project goals. This combination of strong encouragement for bold new ideas, along with honest, constructive and timely feedback has made a marked difference in my ability to pursue new research projects and ask more nuanced questions.
Professor Yoo has lifted me up professionally. He helped me develop my network, allowed me to take initiative to apply for grants that interested me, as well as seek out conference and presentation opportunities for professional growth. Under his guidance, I have learned to develop partnerships for field research, effectively present at international policymaking fora, including at the United Nations, and submit to top academic conferences. Professor Yoo is unafraid of letting me get my hands dirty in the real-world nitty-gritty of the research process, be it negotiating data access from international organizations for a grant that required access to sensitive refugee data, or developing ties with local governments to collect granular administrative data. Professor Yoo puts my goals at the forefront of our relationship, always asking how an opportunity, skill, or experience can advance my interests and career goals. This is a characteristic that I deeply value. Moreover, he goes out of his way to provide me with opportunities to explore new avenues – connecting me to industry mentors who provide me with perspective on industry-relevant careers, for instance – instead of imposing his ideas for what my goals should look like. This flexibility and his remarkable receptiveness to a diversity of career options have enabled me to explore and experiment, with advice and support.
The most important moments that stand out in working with Professor Yoo have been in times of adversity. As a first-generation graduate, I struggled with crippling impostor syndrome when I first entered campus. Over the last two years, I have battled burnout, research dead-ends, and numerous rejections. Academia, to a complete newcomer such as myself, at first felt like a black box with a hidden curriculum that I did not know to decipher. I remember the first time I told him "I do not know if I would ever fit in here" in September 2016. That led to a five-hour conversation where we talked about life in America, academia, and Penn. Professor Yoo's ability to listen and sympathize, while providing me with a crucial perspective at critical moments has been life-changing. His availability despite his demanding travel schedule – which at times means that he takes calls at 1 a.m. while in East Asia – provides me with the support that not many are blessed to have. He is a listener I can confide in at the darkest moments. He cares about my failures as much as my successes and shares valuable experiences with me so I learn to normalize the demands of academic life.
As a budding academic, I see my future self as a mentor, a leader, and a teacher to many. I could not be luckier to have a role model such as Professor Yoo to guide me as I tread down that path.