Second-year law students publish 'Black Women Future Leaders' report, developed as part of Rangita de Silva de Alwis's 'Women, Law, and Leadership' course
January 27, 2021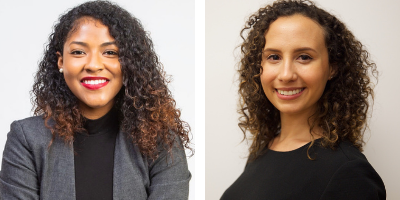 Dana Dyer L'22 and Magali Duque L'22 have published "Black Women Future Leaders," a report developed as part of Rangita de Silva de Alwis's "Women, Law, and Leadership" course at the University of Pennsylvania Carey Law School.
"The report explores the ways in which themes including bias, representation, and allyship affect Black women in the legal field through the data collected from a survey of 30 Black Penn Law students, of which 24 identify as women and 6 identify as men," write the authors. "We first look at how labels and stigma affect Black women, then we turn our analysis to how different spaces such as a law school setting can promote or prevent inclusion."
The authors conclude that recognizing covert discrimination in the form of labels, stigmas, and exclusionary spaces is the first important step in healing the "paper cuts Black women endure," and the second step is taking action.
"To mend these paper cuts, mentors and male allies are necessary to destroy labels and stigmas placed on women of color and instead, amplify their voices," Dyer and Duque write. "Additionally, white women must take the initiative to create an inclusive environment for all women to feel equal and thrive in."
The authors also stress the crucial role of art in the space of inclusion. 
"Black art allows women of color to feel more comfortable and lead without fear of their confidence and assertiveness being misconstrued," they write.
"Women, Law, and Leadership" course
The course is designed for law students who aspire to leadership positions in public and private settings and is meant to address the under-examination of the leadership role of women lawyers in addressing the challenges of our time, including gender equality.
de Silva de Alwis is the Senior Adjunct Professor of Global Leadership at the Law School. She is a globally recognized international women's rights expert. In 2017, she started the Global Women's Leadership Project and Women, Law & Leadership Lab under the auspices of UN Women's Executive Director, Under Secretary-General Phumzile Mlambo-Ngcuka to map the laws that regulate the status of women in the family.
In the video below, Dyer and Duque discuss their report and their experiences in the course. Duque opens the video with a tribute to the memory of eminent legal scholar Stanford Law Professor Deborah Rhode, who passed away on January 8, 2021. The "Women, Law, and Leadership" course was structured around some of Rhode's writings through which students critically examined the model of women lawyers as statesmen and leaders in the world.
A tribute to Professor Rhode's legacy: Her impact on a new generation of women leaders in the law from Penn Law on Vimeo.