Raj Parekh L'06 pursues justice for all as Acting U.S. Attorney in the Eastern District of Virginia
March 31, 2021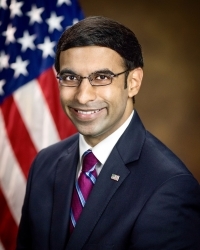 When Raj Parekh L'06 was named Acting U.S. Attorney in the Eastern District of Virginia in January 2021, he became the first person of color in the 232 years of district's history to serve as its chief federal law enforcement official. Parekh was born in Rego Park, New York after his parents immigrated from India.
Parekh credits his professors at the University of Pennsylvania Carey Law School with inspiring him to pursue a career as a trial attorney.
"I was fortunate to take an Evidence class taught by Judge Cheryl Ann Krause of the Third Circuit," Parekh said. "As a former Assistant U.S. Attorney and highly accomplished litigator, Judge Krause brought a very practical approach to the course, teaching by example and weaving in stories about her own courtroom evidentiary battles."
Parekh added that a course on "The Law of Counterterrorist Operations" marked the beginnings of his "deep interest in national security law." He also took courses at Wharton, earning a certificate in Business and Public Policy along with his JD.
"Attending Wharton courses on, for example, managerial economics and game theory really deepened my understanding of organizational dynamics," said Parekh. "Those courses taught me key management and business skills that have been incredibly useful throughout my career, especially as I lead and manage over 300 staff members across four divisions in my current position."
Since graduation, Parekh has devoted himself to public service. He has served as Assistant General Counsel at the Central Intelligence Agency, an Assistant U.S. Attorney for the District of Columbia, and as a counterterrorism prosecutor at the U.S. Department of Justice. Over the course of his career, Parekh has tried many jury trials to verdict and has prosecuted a wide variety of federal offenses, including national security and international crimes, violent crimes, narcotics, cybercrime, and white-collar offenses.
Parekh began prosecuting national security cases in the Eastern District of Virginia in 2016. During that time, the Islamic State (ISIS) was recruiting foreign terrorist fighters to join them overseas to assist with the creation and expansion of their caliphate. Parekh was responsible for prosecuting Mohamad Jamal Khweis, one of ISIS's American recruits.
When Khweis was 26 years old, he left his home in Alexandria, Virginia for an ISIS safe house in Raqqa, Syria. He was captured on the battlefield three months later by Kurdish Peshmerga forces in Iraq. Khweis was the first defendant to face a jury trial in the US after having joined ISIS. As preparation for trying the case, Parekh traveled to Erbil, Iraq to investigate alongside the FBI.
At trial, Parekh cross-examined Khweis for over four hours, exposing inconsistencies in his testimony. Khweis admitted on the stand that he had consistently lied to U.S. and Kurdish officials about his involvement with ISIS, and that he had failed to tell U.S. officials about another American who had trained with ISIS to conduct an attack in the United States. Khweis was convicted on all counts. He was sentenced to 20 years in prison.
Parekh said that it has been a tremendous honor to step into the role of Acting U.S. Attorney.
"I am responsible for overseeing and ensuring that our office pursues the fair and impartial administration of justice for all, upholds the rule of law and safeguards the civil rights of everyone, seeks justice on behalf of victims," he said. "It is a privilege to be able to protect the communities we serve."