Negar Katirai L'05 has been named a Fulbright U.S. Scholar for the upcoming academic year
June 10, 2021
Negar Katirai L'05, University of Arizona Clinical Professor of Law and Director of the school's Domestic Violence Law Clinic, has been selected as a Fulbright U.S. Scholar for the 2021-22 academic year.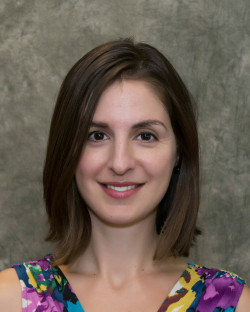 Katirai's research focus will take her to the University of Technology Sydney in Australia to study domestic violence fatality reviews, which involve the analysis of deaths related to domestic violence with the goal of reducing future similar fatalies.
Katirai noted that her Fulbright application relied heavily on the scholarship of University of Pennsylvania Carey Law School's Edward B. Shils Professor of Law and Professor of Political Science Cary Coglianese.
"His work on effective public-private partnerships featured rather prominently in the literature review I submitted as part of my Fulbright application," she said.
Katirai also noted that her interest in comparative law as well as law and society studies began while she was a student at the Law School, "particularly in courses with [Stephen A. Cozen Professor of Law and Professor of Political Science] Jacques deLisle, [Heimbold Chair in International Law and Professor of Medical Ethics & Health Policy] Eric Feldman, and [Faculty Fellow] Kim Scheppele."
While the United States already takes into account fatality risks, Katirai believes this comparative study with Australia can be especially valuable because of Australia's coordinated approach to institutionalizing fatality review teams as well as its adept handling of victim confidentiality.
"My hope is that this research inspires greater collaboration and coordination between teams in both Australia and the United States, perhaps leading to legislation at the state or federal level in the United States," said Katirai. "In addition to scholarly articles, I also intend to publish pieces intended for a lay audience, and in doing so raise awareness of the importance of fatality reviews as well as the impact of domestic violence in general, further garnering impetus for positive change in both countries."
As Director of the University of Arizona's Domestic Violence Law Clinic, Katirai supervises law students in providing legal representation to survivors of intimate partner violence. She also teaches Family Law and a Domestic Violence Seminar, and often guest lectures in other courses on related topics, including vicarious trauma, trauma-informed legal representation, and diversity and cultural competence.
Katirai's scholarship investigates questions that arise in the practice of family and intimate partner violence law and seeks to promote conversation and collaboration between practitioners and academics. She has been recognized for her community contributions by the Women's Foundation of Southern Arizona.
Being selected as a Fulbright U.S. Scholar has long been an aspiration for Katirai.
"As an Iranian-American, I developed an early appreciation of the power of cultural exchange to increase acceptance, understanding and kindness between people from different places and experiences," she said. "I am incredibly honored to have been selected."