The National Security Narrative Exacerbates Persecution of Rohingya Muslims
June 20, 2017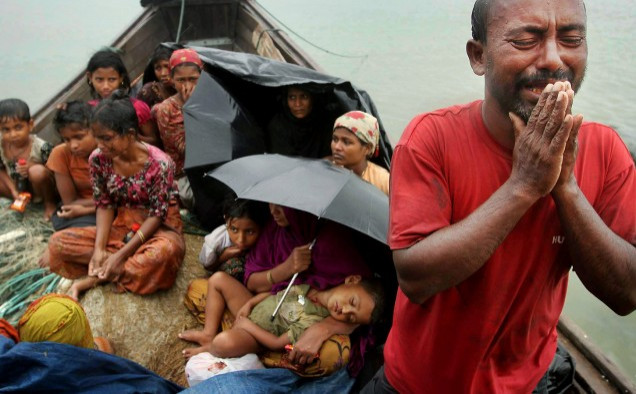 The United Nations (UN) has long characterized the Rohingya Muslims as one of the world's most persecuted minorities, with anti-Rohingya and anti-Muslim sentiment tainting Burma's political and social spheres.  In contravention to international human rights law, Burmese officials subject Rohingya Muslims to a spectrum of human rights violations including the denial of citizenship rights, restrictions on religious freedom, forced displacement, gender-based violence and the arbitrary deprivation of life.
In recent years, however, Burmese officials have leveraged a national security narrative – depicting the minority as a threat to the nation's "peace and stability" – to justify abuses that have persisted for decades with sheer impunity.  While there is no credible evidence of widespread Rohingya radicalization or militancy, their persecution has provided fodder to violent extremists.  This became quite clear to us as Americans last year when the Ohio State attacker cited their plight as contributing to his "boiling point," culminating in the November assault on a serene college campus.
In 2012, anti-Rohingya violence displaced thousands from their homes in Burma, Since then, more than 120,000 predominantly Rohingya Muslims continue to be housed in forty internment camps.  In the intervening years, former Burmese President Thein Sein, a longtime military general, characterized the Rohingya as a national security threat and advocated for their expulsion, with refusal to acknowledge the atrocities perpetrated by the state itself. 
President Aung San Suu Kyi, the fearless human rights advocate who triumphed in the 2015 democratic elections, now leads Burma's civilian government. In recent years, she refuses to pursue meaningful reforms to ensure or restore Rohingya human rights.  In response to related criticism that she has turned a blind eye to flagrant human rights violations against the Rohingya Muslims, she accused international actors of "drumming up a cause for bigger fires of resentment."
Not only does Suu Kyi refuse to acknowledge human rights violations perpetrated against the ethnic and religious minority, but she also refuses to recognize the community's identity at all. Sheclaims that the term "Rohingya" is inflammatory, in line with many Burmese civilians insisting that the group is instead "Bengali" and should return to Bangladesh.  According to Burmese scholar Maung Zarni, Suu Kyi's denial of "Rohingya identity and history" is evidence that she holds "genocidal views towards the Rohingya."
By way of background, upon achieving independence from England in 1948, Burma struggled with armed ethnic conflict and political instability during a prolonged period of political reformation.  In 1962, a military coup produced a one-party, military state informed by socialist notions of governance. This military state would last for more than sixty years.
During that time, the Burmese military committed numerous human rights abuses—killing, raping and torturing the state's Rohingya Muslim population.  Notably, the army subjected the group to mass expulsions in 1977 and 1992, creating what has been widely viewed as a chronic refugee crisis in neighboring Bangladesh. 
In 1977, Burmese officials implemented a nationwide initiative scrutinizing illegal immigrants, which resulted in killings, mass arrests, torture, and other abuses against the Rohingya, forcing more than 200,000 to flee to Bangladesh.  Engaging in political spin, officials stated, "19,457 Bengalis fled to escape examination because they did not have proper registration papers," again refusing to identify the Rohingya as such while also underestimating the number of refugees. 
While Suu Kyi did convene a nine-person commission last August 2016 to discuss options for national peace and reconciliation, the military atrocities that transpired several months later gave rise to an old concern: officials were perpetrating crimes against humanity against the Rohingya.  Specifically, in October 2016, Burmese authorities blamed the Rohingya for a series of attacks on security posts along the nation's border with Bangladesh.  According to the police, Muslim militants attacked three border-guard posts and security personnel killed eight assailants.
In response to the alleged assault, officials retaliated by inflicting horrific abuses against the civilian population in contravention to international human rights laws.  The government's security forces undertook raids depicted as part of a "clearance operation," to apprehend those they claimed responsible for the attacks.  During the course of that counterterrorism response, thousands of Rohingya men, women and children were summarily executed.  In addition, gang rapes occurred, homes were destroyed, tens of thousands were displaced internally, and approximately sixty-five thousand Rohingya Muslims crossed into Bangladesh between October 2016 and January 2017.  Burmese officials also prevented international relief agencies from delivering necessary food and medical care to the most vulnerable Rohingya. Merely 20,000 of the 150,000 people who required aid – food, cash and nutrition assistance – actually received it.
While Burmese authorities claimed that they were simply maintaining "peace and stability," the U.N. refugee agency expressed concern about "ethnic cleansing." A subsequent U.N. human rights report found that official actions forced more than 90,000 Rohingya to flee their homes. The report described how soldiers taunted some Rohingya for their Islamic faith, yelling, "call your Allah to come and save you," while physically assaulting their victims. In addition to the torture, mass killings, forced disappearances, and arsons, the U.N. also found pervasive gender-based violence. Of the 101 Rohingya women interviewed, approximately 52 percent reported rape or abuse by members of the military.
Regarding national security – or ensuring "peace and stability" – Human Rights Watch accurately observed,
"The Burmese government says its crackdown is in response to a security threat, but what security advantage could possibly be gained by raping and killing women and children?"
In addition, Amnesty International accused security forces of pursuing a "scorched earth" policy and claimed that the operation may constitute "crimes against humanity."  Further, Zeid Ra'ad al-Hussein, the U.N. High Commissioner for Human Rights, criticized the government's response as "shortsighted" and "counterproductive."  He feared that such atrocities created fertile breeding ground for violent extremism.
It is significant to note that there is no prior evidence of militancy or radicalization among the Rohingya Muslims despite decades-long persecution.  According to Richard Horsey, an International Crises Group analyst, there is "a long-standing sense among much of the Rohingya population and many religious leaders that violence would be counterproductive."
In contrast to findings from the U.N., Human Rights Watch, and Amnesty International, a Burmese government committee concluded that it had conducted all of its security actions lawfully. State-run news media outlets have helped officials propagate that alternative reality. 
Indeed, state-run news media outlets depicted human rights monitors and independent journalists as working "hand in glove" with terrorists to help justify the official blockade barring their entry to impacted areas. Last November, Burma's state media introduced the "True News Information Team of Defense Services," which singled out private media outlets for publishing related "fabrications." The country's paper of record, The Myanmar Times, even prevented its employees from reporting on the military atrocities despite credible evidence from international human rights organizations as discussed above.
The Burmese government has consistently denied allegations of persecution and human rights violations against the Rohingya despite a long-standing pattern of abuses evidencing otherwise. Previously, in 2015 legal analysis, Yale Law School's Allard K. Lowenstein International Human Rights Clinic found "strong evidence… that genocidal acts have been committed against Rohingya" and "that such acts have been committed with the intent to destroy the Rohingya, in whole or in part."  In another 2015 report, Queen Mary University of London's International State Crime Initiative asserted that "the Rohingya face the final stages of genocide". The report further pronounced "state-sponsored stigmatization, discrimination, violence and segregation … make precarious the very existence of the Rohingya." 
And, still, the international community does nothing to stop the atrocities.
_______________________________________________________________________________________________________
Engy Abdelkader, LLM '13, is the author of The Rohingya Muslims of Myanmar: Past, Present, Future and Myanmar's Democracy Struggle: The Impact of Communal Violence on Rohingya Women and Youth.