The Audacity of Dissent: Ilhan Omar and Criticism of Israel
April 01, 2019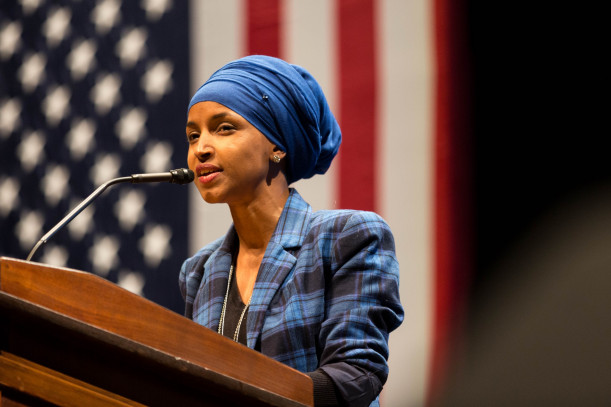 A post published last week titled, "A Diverse House," accused freshman Democratic Congresswoman Ilhan Omar (D-MN) of being a driving force behind the spread of anti-Semitism within the halls of Congress. While we strongly disagree with this false allegation, we write to emphasize that, much like the frenzied outcry that Rep. Omar's Tweets generated, that post failed to acknowledge the broader context in which Rep. Omar's criticisms of AIPAC and Israeli policies must necessarily be understood–in particular, the rise of white nationalism and Islamophobia in this country. We write to provide some of this necessary context.
To begin, the authors neglected to mention (or even condemn, for that matter), the fact that Rep. Kevin McCarthy (R-CA), prior to vowing to "take action" against Reps. Omar and Rashida Tlaib (D-MI) for their outspoken criticism of Israel's human rights abuses, had himself published a (now-deleted) Tweet accusing prominent Jewish philanthropists of attempting to "buy" the 2018 midterm elections. Nor was any mention made of GOP lawmakers who have variously accused George Soros of "turn[ing] in his own people to the Nazis," invited notorious Holocaust denier Chuck Johnson as a guest to the State of the Union, and spoken at a convention of the white supremacist European American Unity and Rights Organization, a group founded by David Duke.
In a political climate in which GOP lawmakers openly embrace the ideologies of hate espoused by white supremacists, whom President Trump has called "very fine people," we must ask: why is the first Somali-American Congresswoman–a Black, Muslim, refugee who proudly wears her hijab in an institution that is only now slowly beginning to reflect the rich diversity of this nation–the person being charged with bigotry?
To be sure, Rep. Omar–who co-sponsored a bill to elevate the Special Envoy to Monitor and Combat Anti-Semitism to the level of ambassador and committed to using her own office to combat anti-Semitism–readily apologized for the Tweet that some regarded as anti-Semitic. Moreover, several prominent Jewish organizations expressed their support for Rep. Omar and emphasized that reflexively labeling all criticism of Israeli policy as anti-Semitic "undermine[s] the vital effort to counter the actual scourge of anti-Semitism in the United States and around the world."
By contrast, establishment Republicans and Democrats acted swiftly to censure Rep. Omar and pass what in the end became a "catchall antibigotry resolution," while saying little to nothing about the racist and anti-Semitic views espoused by their GOP colleagues.
In reality, it is Rep. Omar's willingness to challenge what until only recently has been orthodox in American electoral politics and foreign policy–unquestioning and uncritical support for the State of Israel–that has made her the target of disproportionate condemnation by GOP and Democratic lawmakers, as well as the recipient of Islamophobic, racist, and sexist remarks masquerading under the guise of combating anti-Semitism. As has been well-documented, including by prominent academics John Mearsheimer and Stephen Walt, Israel owes this support in no small part to the organizing and fundraising efforts of the powerful American Israel Public Affairs Committee (AIPAC). Far from being "incendiary," the fact that AIPAC, a lobbying group, spends millions of dollars each year to influence U.S. policy towards Israel is just that: a fact. As Rep. Omar has pointed out, however, what makes AIPAC exceptional is that its activities, unlike those of the NRA, Big Pharma, or the fossil fuel industry, are apparently beyond reproach.
It is the influence of pro-Israel lobbying groups like AIPAC and bogus charges of anti-Semitism that are in reality hindering our ability to have a balanced discussion about Israel–at least in Congress. Fortunately, these conversations are already taking place at the grassroots level. On college campuses and in towns and cities across the United States, organizers and activists in the nonviolent movement for boycotts, divestment, and sanctions against Israel are helping to expose the realities of Israel's more than half-a-century-long occupation of Palestine.
Organizers in these circles have already pointed out, for example, how Israel's portrayal of itself as a haven for LGBTQ people in the Middle East represents a cynical and deliberate use of gay rights to distract from and normalize the Israeli occupation and settler colonialism, a practice known as "pinkwashing." This meticulously constructed image belies a more troubling reality in which Israeli security services frequently blackmail gay Palestinians into acting as spies and informants and threaten to out them if they refuse to cooperate. Moreover, Israel generally denies applications for asylum from gay Palestinians simply because of their nationality.
Ultimately, while many scholars and commentators have eloquently drawn the distinction between criticism of Israel and anti-Semitism, and the harmful way this obfuscation has been weaponized in U.S. politics, we want to emphasize that we see Rep. Omar as a symbol of our democracy. As a Black, Muslim-American woman, Rep. Omar understands what it is like to live in a system that denies your humanity and works actively to erase your existence. She unapologetically speaks truth to power with the goal of ensuring that the interests of all Americans are valued and respected.
At a time when our nation's leaders openly espouse anti-immigrant and xenophobic world views, we need elected officials and public intellectuals who are willing to emulate–not condemn–the bravery and strength of character demonstrated by the Congresswoman and her supporters. Individuals like critical race scholar and racial justice advocate Michelle Alexander, who wrote a thought-provoking piece titled, "Time to Break the Silence on Palestine," in which she called the situation in Israel and Palestine "one of the great moral challenges of our time." Or prominent Jewish American writer and commentator Peter Beinart, who has called Israel's maintenance of two legal systems in the West Bank–one for Jews, the other for Palestinians–"bigotry."
We do a disservice to the cause of peace and justice in Israel and Palestine when we too quickly condemn individuals for the simple act of daring to challenge America's status quo support for the State of Israel. Rep. Omar has opened up a crucial space in the Democratic Party to have a frank and long-overdue discussion about America's role in undermining human rights both at home and abroad, and we are all the better for it. 
We stand with Ilhan Omar.